A very good night's sleep in our new room (we switched for various reasons including the excessive street noise)……This room faces the interior courtyard and, while somewhat smaller, seems more comfortable and convenient.

I take this opportunity to go out for a morning walk…I really want to get a comfort level about the layout of the town and yesterday I felt somewhat at sea trying to navigate. It is cool but the sun is trying to break through and it looks like it will be a nice day. (The weather for the first two days was pretty good–even a little warm yesterday. So far, no rain.)
After breakfast at a bar down the street, our first destination is the Museo della Pittura Murale. This is a gem of a small museum…the paintings are beautifully displayed in a long gallery. There are a number of 13th and 14th century altar pieces which are in beautiful conditon with so much detail on the various levels that it is difficult to take them all in. One of the altar pieces by Mariotti di Nardo has just been restored and is included in city wide exhibition now going on called "Echi Preziosi (Precious Echoes).
There a number of memorable pieces in this small gallery, including a stunning Adoration of the Magi
by Lippi
with an angelic Mary and a remarkable Joseph that was shown in Paris and is now back in Prato
a breathtaking stained glass panel from the 15th century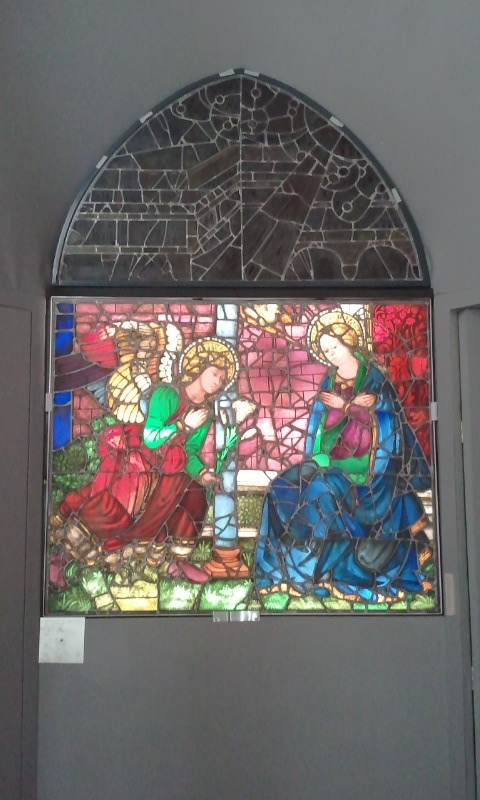 and very vivid Mother and Child with Saints by Trombetto.
Again we were the only people in the museum and, while it is a shame that there isn't a larger attendance, it is really nice to have the paintings all to yourself.
After a quick stop in the Church of San Domenico next door, we walk down the street to the Palazzo Datini, home of the "Merchant of Prato". Bernardo Datini was one of the richest businessmen in the world in the 15th century. Iris Origo wrote a favorite book of ours "The Merchant of Prato" based on the large store of records and letters that he left. He made a fortune in the wool trade (Prato is still an important textile center) but also is known for his development of accounting principles and economic analysis. He traveled all over the world promoting his businesses and kept painstaking records which documented what he saw and how the businesses were doing. After his death, he left his fortune to a charitable organization in Prato dedicated to helping the poor….the foundation (the Ceppo) is still active.

The outside of the palazzo was heavily frescoed in his honor after his death.
There is also a statue of Datini prominently located in the Piazza del Comune.
His palazzo is now open as a museum and has painstakingly detailed (and ultimately a bit dense) exhibits about the house, his life and his work…..but we are happy to make the "pilgrimage".
We have lunch at a sandwich place on the Piazza Mercatale that I had seen the day before…a lampredotto (cow stomach) sandwich–a Florentine specialty–for me and a porchetta sandwich for Diana–both delicious.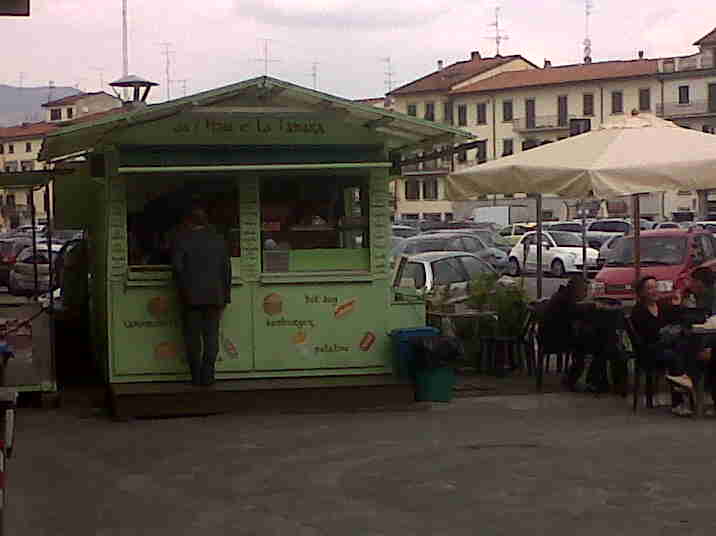 After lunch, we walk back to the hotel for rest and work. In the late afternoon, with rain threatening we get in the car for an expedition to a couple of museums. The less said about the expedition, the better. Our first destination–the Museo del Tessuto (Museum of Textiles)–turns out to be closed; I had somehow misread the opening hours. And the second–the Luigi Pecci Center for Contemporary Art–is just closed with no explanation. And to top it all off, it is raining and we get caught up in heavy rush hour traffic making the trip back to the hotel very difficult.

We have to circle around once before finding a parking space and make it back to the room without getting wet. Once the rain stops, we decide to have an apertivo at a nearby bar. The prosecco is fine but the outdoor tables are full of noisy school kids….we will have to pick a different bar next time.
Back at the hotel, we have a long discussion with the manager of the hotel while we settle up the bill. She complains how difficult it is to drum up any tourist trade from Americans even though she uses all the social media–Facebook, Skype et al. I tell her that I have never convinced any clients to give Prato a try and don't think it will be an easy sell, even though we like Prato very much.

We also discuss the presence of many Chinese in Prato..it has the second largest Chinatown in Italy (after Milan). Chinese companies are now very active in the textile industry and they bring in Chinese workers who undercut wages of Italians and are said to produce inferior products that have the "Made in Italy" label. Other people we spoke to share the resentment of the Chinese in Prato and blame the government for not doing more to discourage the increase.
We have dinner at a nearby place–an informal, old-style trattoria listed in the Slow Food Guide. Trattoria Soldano is a treat–a no-nonsense place with low prices, little style, a welcoming atmosphere and terrific food. Diana has a dish of prosciutto, stracchino and "coccole", a fried bread that we have also had in Emilia-Romagna – followed by a beautifully fried "fritto misto". I try the local specialty–mortadella di Prato–which is different than the Bolognese version–a little less delicate–but still good and a plate of very good pici (thick homemade pasta) with a sauce of wild boar (cinghiale). The house wine is okay and the bread is very good.

We have a nice time talking to the Italian couple sitting next to us who are there with their one month old baby son…we show them pictures of our grandchildren and talk a bit (in our limited Italian and their limited English) about Prato, the United States and having babies. All in all, a very nice evening…
Tomorrow we will try again for the Museum of Textiles and then drive to Vicchio (north of Florence) to have lunch with our friends Jane and Carlo at their house.

Jim and Diana