A beautiful day and lazy morning…we eat breakfast on the terrace with the beautiful view in morning light.

We walk down to the harbor to take the boat across the Gulf to Portovenere, the old town located on the narrow mouth of the Gulf where it meets the Mediterranean. The twenty minute trip is a perfect sea voyage for me–just long enough. There are a lot of small sailboats out as well large container ships steaming out of La Spezia and a medium size cruise ship anchored off Portovenere.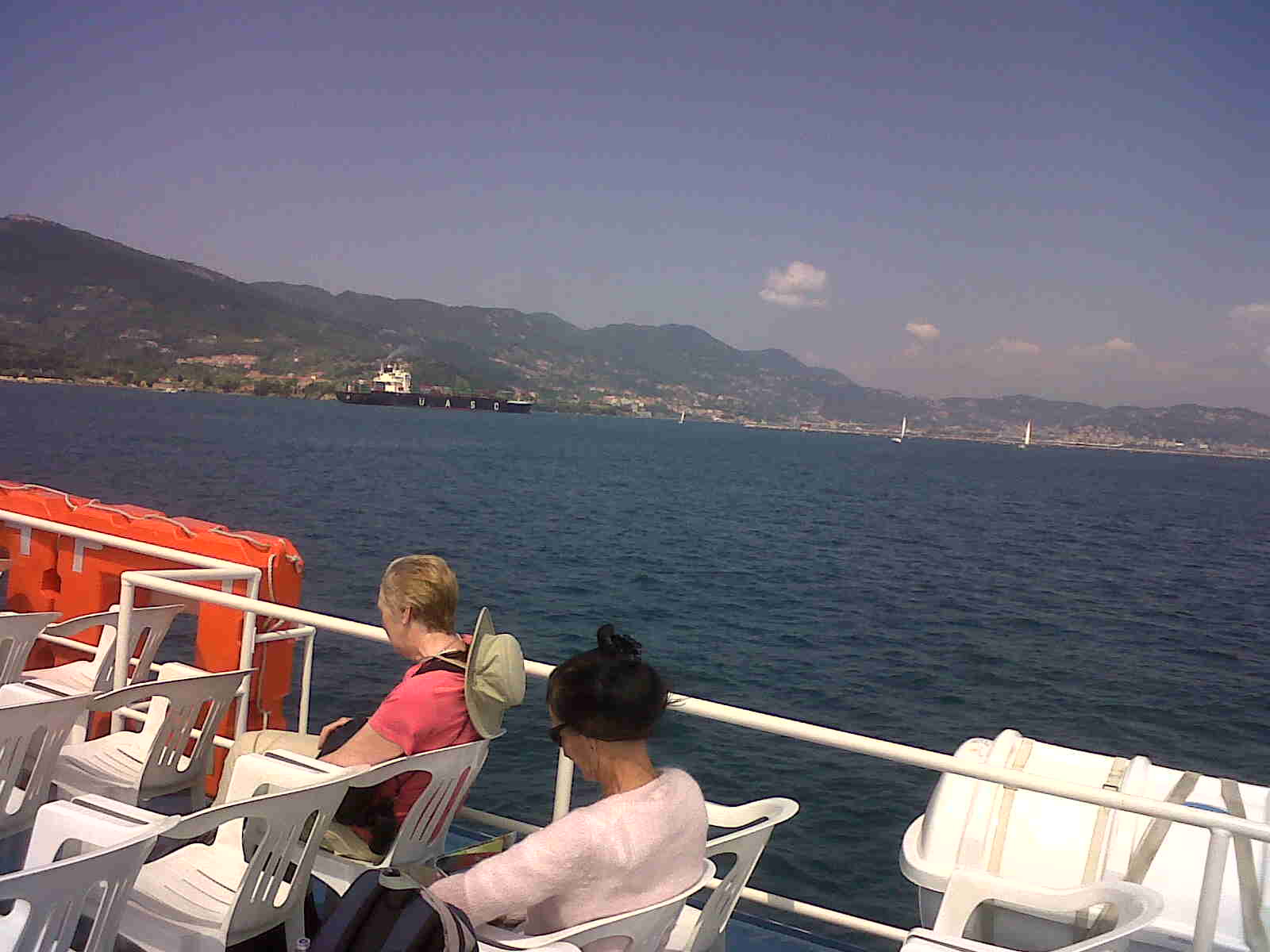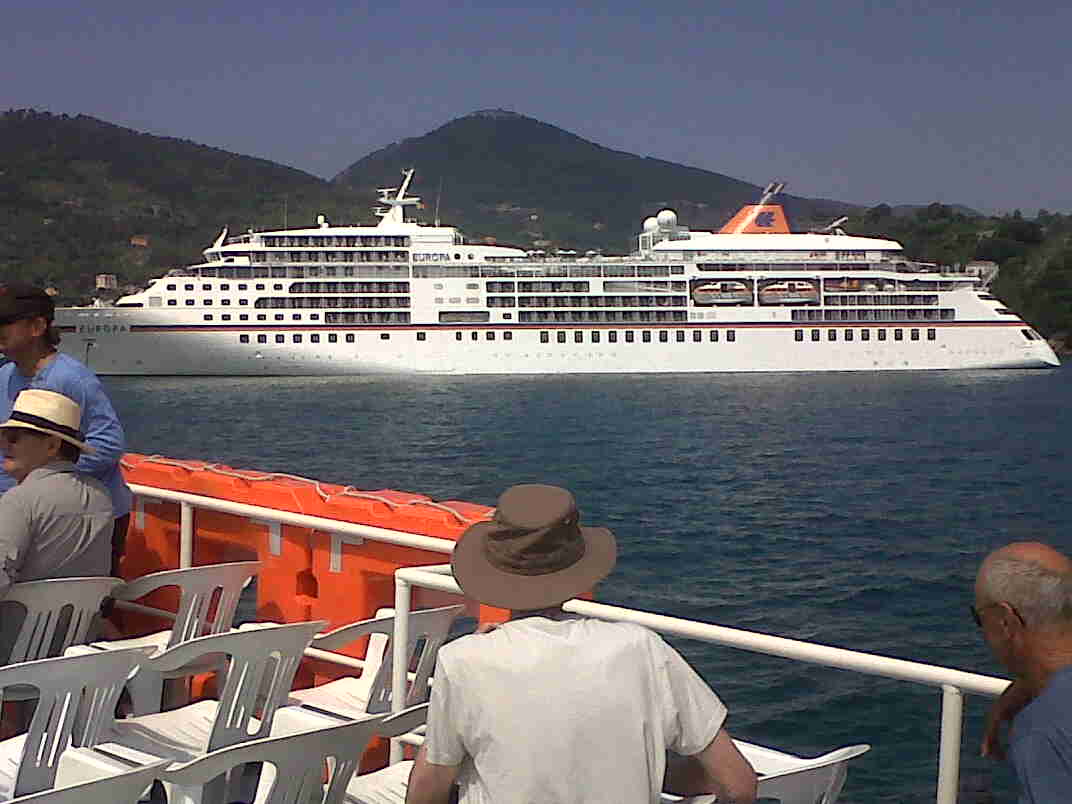 We can see the small boats shuttling cruise passengers to and from the town.
We have been to Portovenere before but it's always nice to make return visits. There is an old castle dominating the town and the harbor. the town's architecture–high buildings facing the sea–was conceived as part of the defense of Portovenere from attack during its heyday as Genoa's ally in the 15th and 16th century.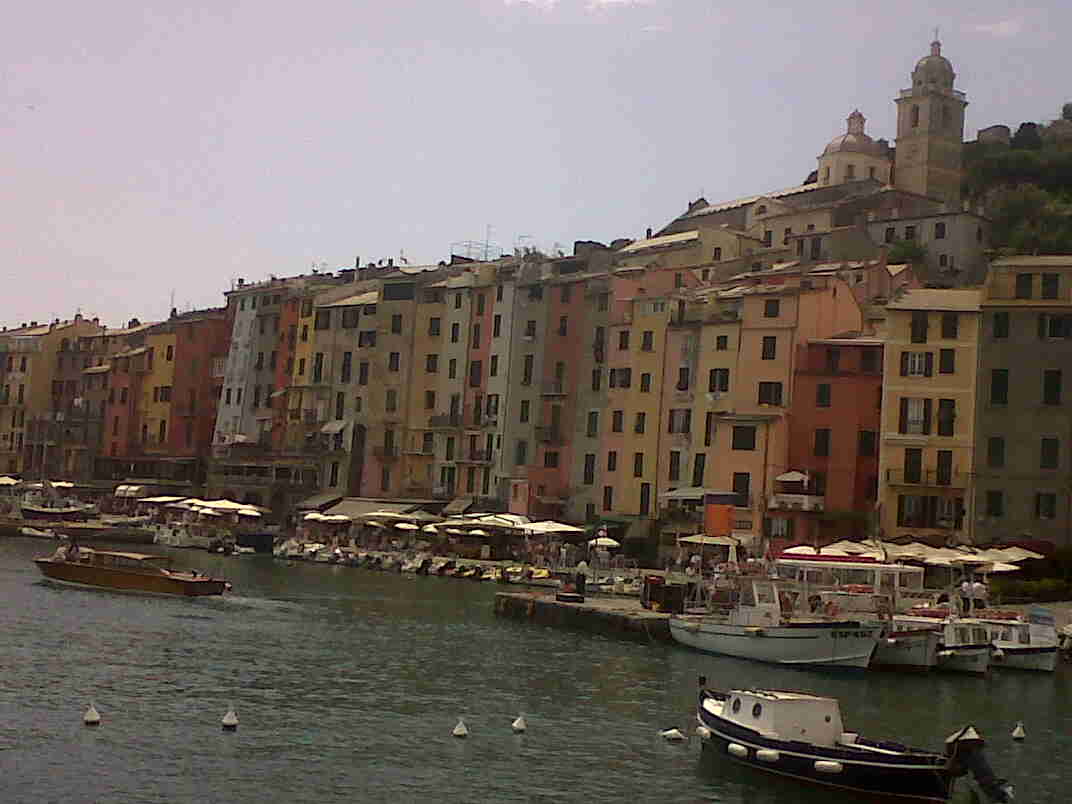 I walk out to the point where the 13th century church of San Giorgio seems to rise straight out the rock. (Diana chooses to sit and enjoy the view from the wall to the left in the picture.)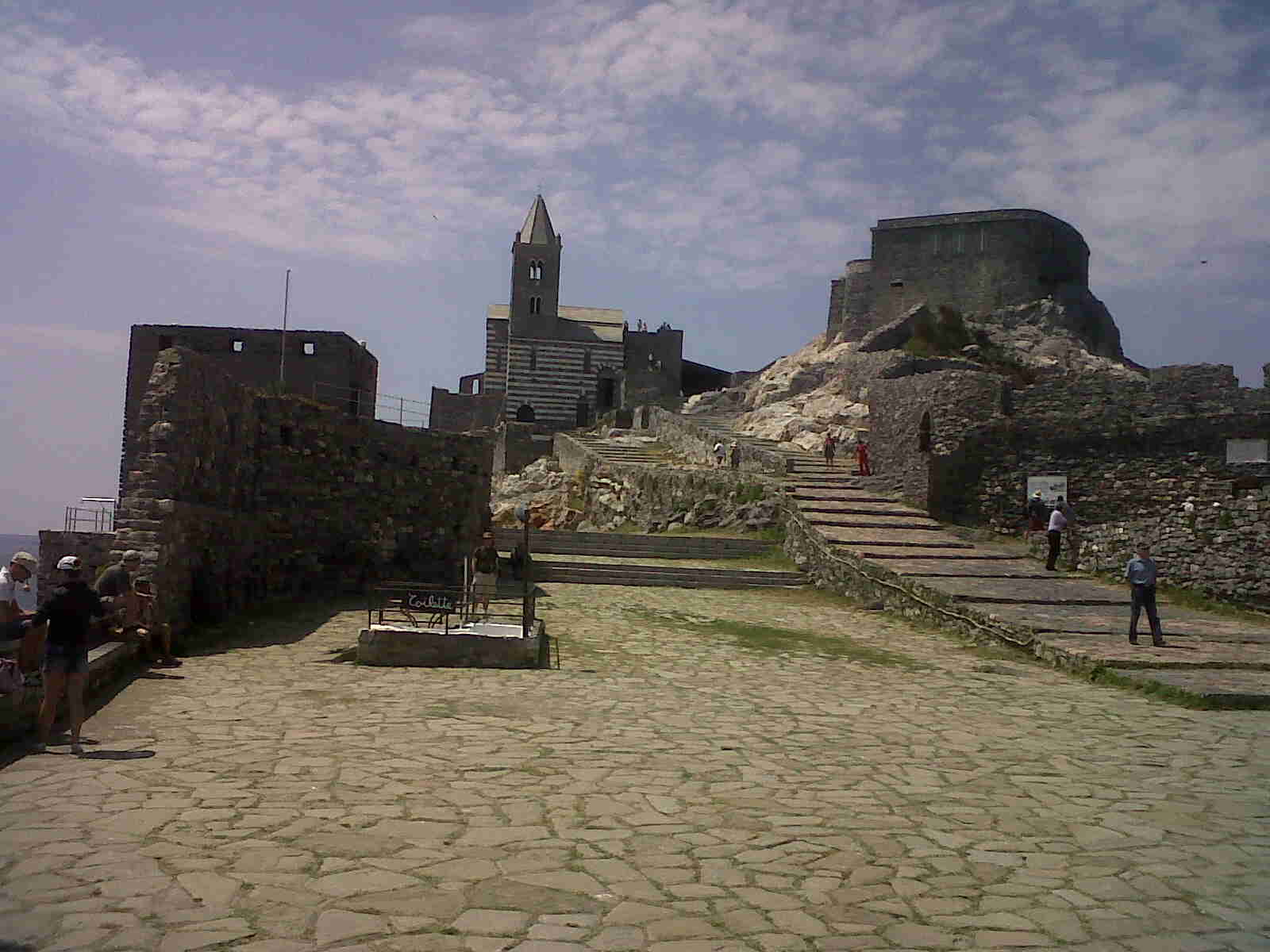 Alongside is the grotto where the poet, Lord Byron, used to start his marathon swims across the Gulf when he and Shelley lived here.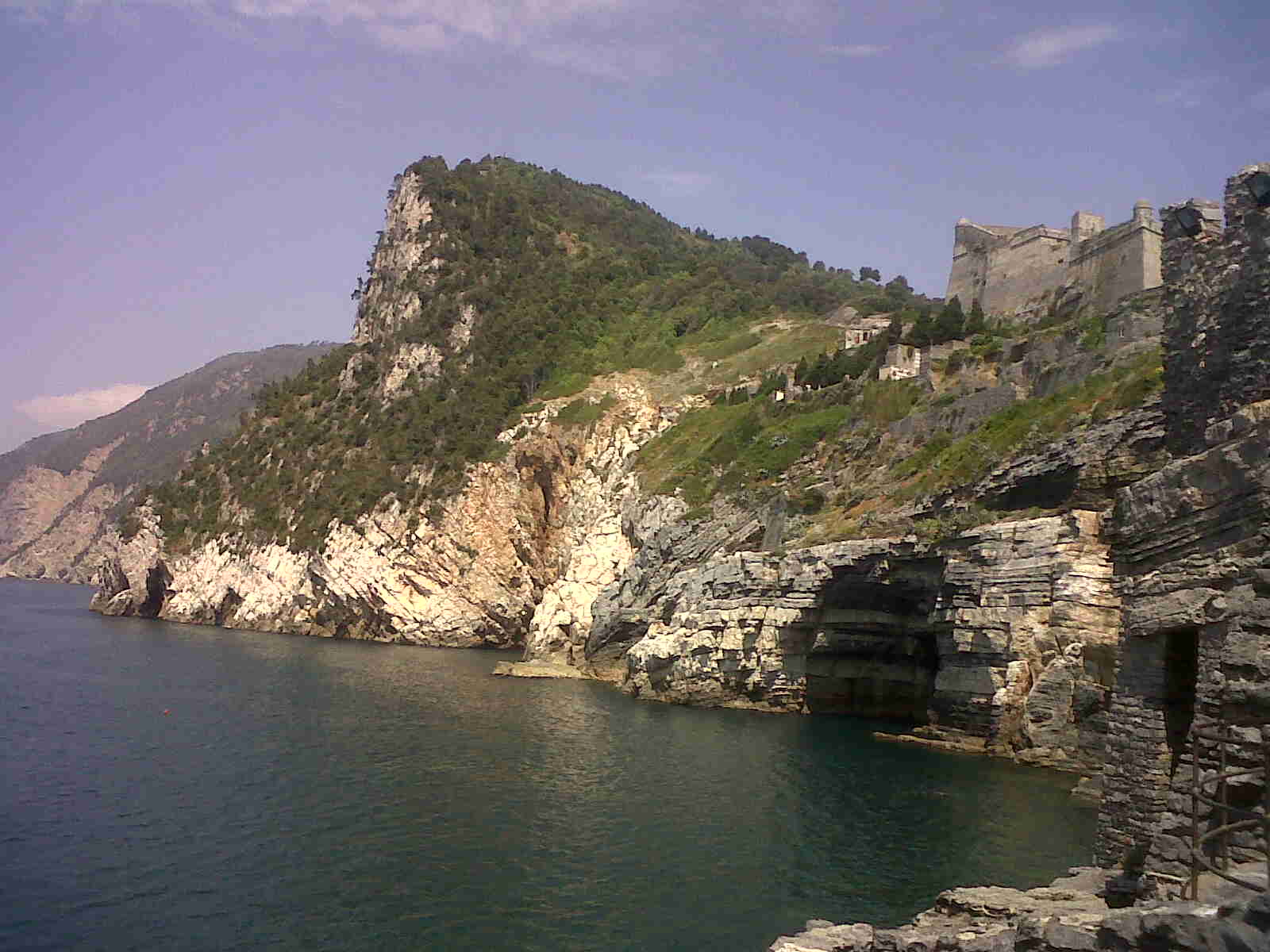 We do a little shopping for the grandchildren on the main commercial street…a narrow alleyway that is completely cut off from the water…again part of the defensive plan of the town.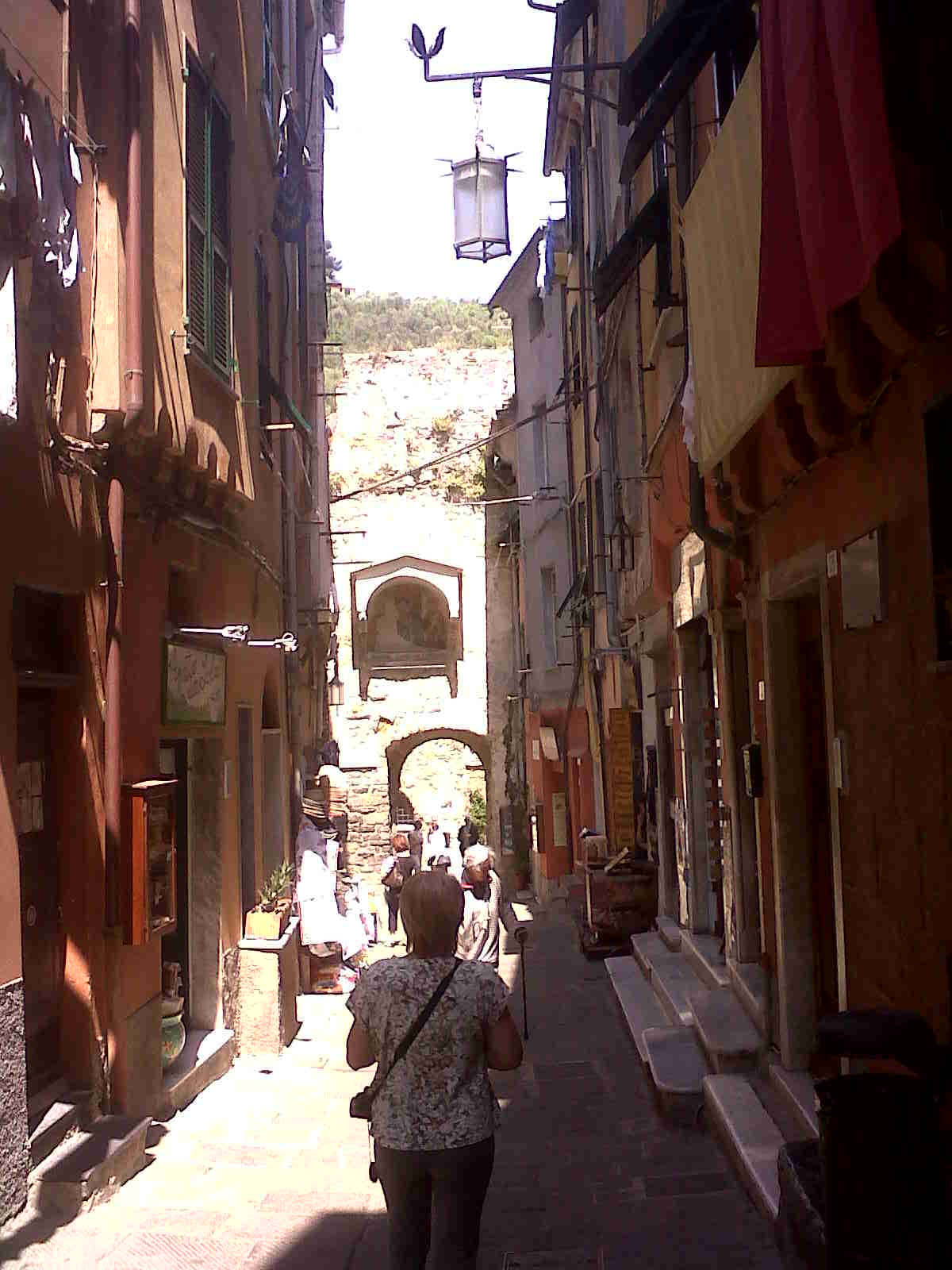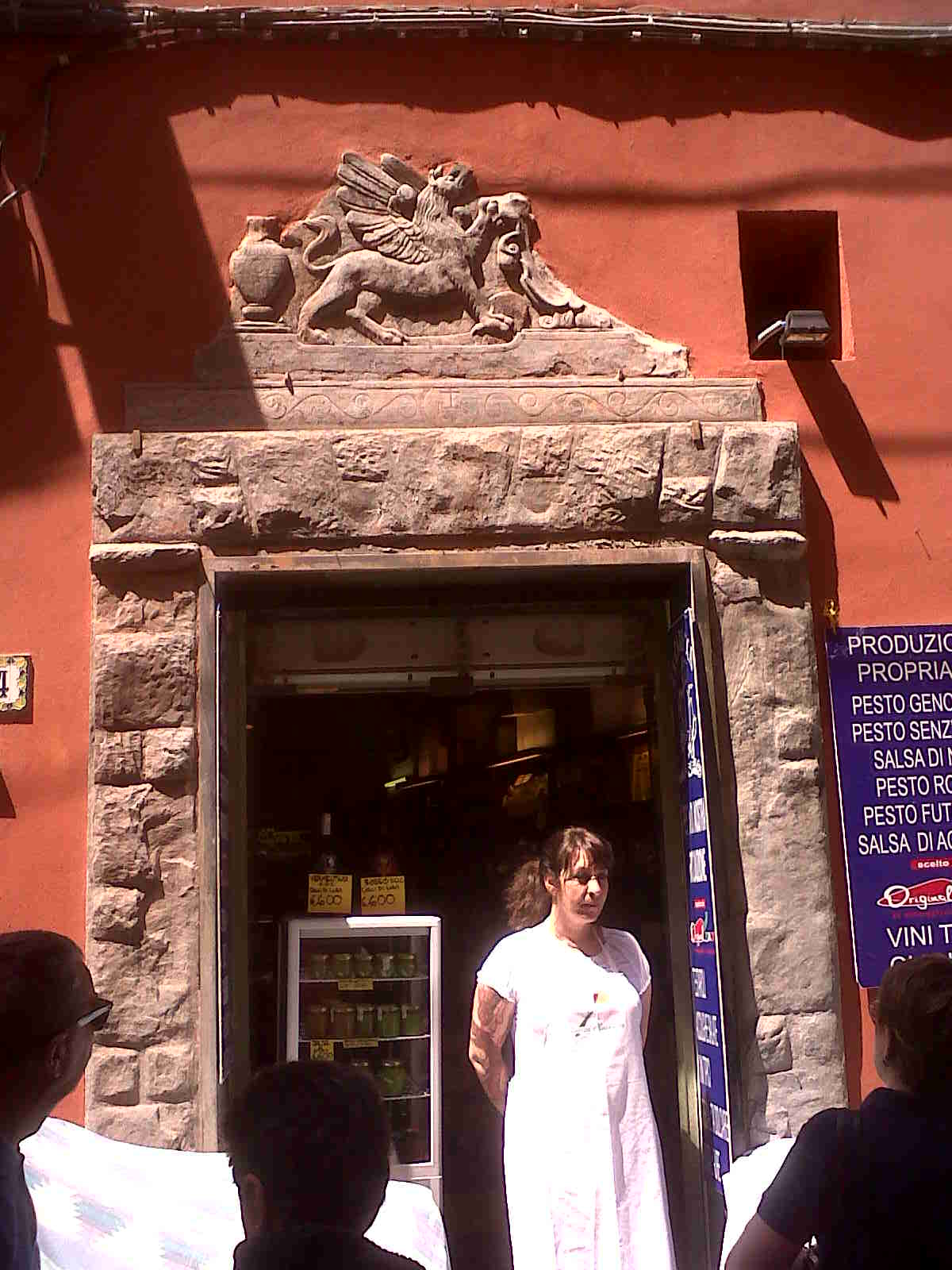 We find a trattoria
with an outdoor terrace,
a short distance from the center and have a pleasant, relaxed lunch of salads, grilled branzino for Diana and mussels in marinara sauce for me.

Back in Lerici, we sit okn our terrace enjoying the warm sunshine. Before dinner, we have a drink on the hotel terrace with Megan McCafferty–an American who lives in Lerici who is also in the travel planning business–and her Italian husband Luigi Guerrera. Then Luigi (from the hotel) picks us up and we (along with his wife Shona) drive up into the hills to have one of our favorite meals–the local speciality of Podenzana–panigacci.
The panigacci specialties from around the town of Podenzana, has a round shape with a diameter of about 15 cm and white.
It has a fragrant aroma, similar to that of bread.
It is prepared by mixing wheat flour with salt and water until a thick paste, which is then placed in terracotta heads, stacked on each other and made red hot.
It is eaten hot, accompanied by ham and cheese, pesto, mushroom sauce, jam, chocolate or flavored with extra virgin olive oil and grated cheese.
A nice time is had by all….lots of wine is drunk and when we get back to the hotel, we are asleep in no time.

Tomorrow….laundry and maybe a visit to La Spezia.